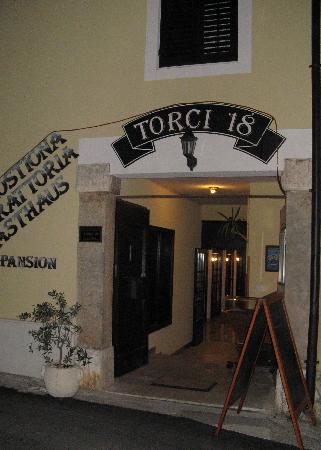 Restaurant 'Torci 18' offers various types of hot and cold appetizers.
Well known are the raw shrimps on a bed of arugula and delicious fish pate, a recipe by the Chef of the restaurant, "Torci 18".
Furthermore the restaurant offers daily fresh fish, shellfish / lobster and renowned Kvarner shrimps made 'buzara style', grilled or fried.
If someone wishes to, in consultation with the staff, we would strongly recommend the sea bass or sea bream in salt, or fish prepared under the bell.
Should you desire something different, you can always enjoy delicious Istrian ham and goat cheese, or tasty grilled meat, a variety of soups, wild asparagus or mushrooms.
Our policy is that the food is prepared at the moment, when the guest wants it, and is therefore always freshly prepared.
Family Beletić always uses as side dishes vegetables and salads from their own garden.
It is worth mentioning that all the food in the restaurant, from appetizers to desserts, is blended with oils Al Torcio, and the oil Leccino is always brought to the table, along with warm bread, to guests for tasting.